Last year, the European Camping Group (ECG) acquired the VacanceSelect Group. The European Camping Group already includes the tour operator brands Eurocamp and Homair.
Due to this it was decided to merge the accommodations of VacanceSelect in to one common fleet for 2024, together with Eurocamp and Homair. The new fleet called Eurocamp & Homair will now operate a shared choice of accommodation with an even wider selection of options for you. This means for you, that the accommodations types you use to book with us will change name. You see the new categories here:
Ultimate Plus

Ultimate

Comfort Plus or Premium

Comfort

Classic XL

Classic

Comfort Plus
You will already now find these types active on the campsites you used to book. We will later on update this article with info on the 2023 type vs. new 2024, to make the change more clear for you, but below you find the introduction to the new types that can help you already now in the selection of your new holiday with us:
Ultimate holiday home range
This is the largest and most sought-after range of holiday homes and has been designed with a modern lifestyle in mind. Intelligent use of space meets sleek, fresh design in our flagship range. Upgrade your summer, and enjoy a spacious living area and generously covered decking. The Ultimate Plus takes summer living to the next level, with more than a touch of luxury.
Lounge Decking options are available in Ultimate Plus models.

All models include a package of extra services as standard
Premium holiday home range
The Premium range has an open and airy feel with modern styling for a memorable stay. Blending thoughtful design and flexible living space, the Premium range is the perfect mix of comfort and convenience, appointed with a Queen Sized bed and a dishwasher.
Lounge Decking options are available, complete with Nespresso Machine and Premium mattress.

Premium Exclusive models are available, featuring a package of extra services.
Comfort holiday home range
It's easy to make yourself at home in a Comfort holiday home. That's why it remains one of our most popular ranges. Good value, bright interiors and space for everyone. The well-equipped kitchen makes it easy to cater for yourselves, but why cook indoors when you can light the BBQ instead? Comfort Plus models take our popular Comfort formula to newer models with a little more space.
Wheelchair adapted options available

Dogs allowed in Comfort models, but not permitted in Comfort Plus models.
Classic holiday home range
Traditional in style, but all the essential elements of the camping experience - detached living, the freedom of self-catering, and your own outdoor space. If you love the outdoor lifestyle but still want a comfy holiday hub to call your own, our entry-level accommodation is a great introduction. Choose Classic XL models with a little extra space to stretch out and relax.
Wheelchair-adapted options available

Dogs allowed
Choose from a range of decking styles
Most of our holiday homes feature a private decked terrace. The bigger, better choice available for 2024 includes a variety of decking styles to suit all budgets and tastes.
Small decking
Ground level or small integrated wooden terrace.
Decking
Standard wooden terrace, level with mobile home.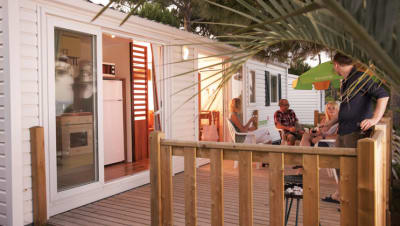 Covered decking
Standard wooden terrace, level with mobile home, with partially covered area.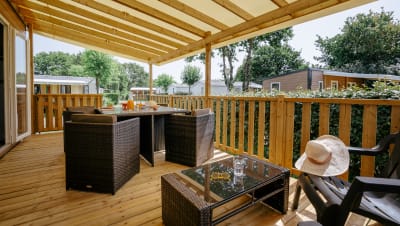 Lounge decking
Larger wooden terrace, at least partially covered, with upgraded furnishings.